-->
Sign up for our North Carolina Genealogy newsletter:
Alson Gordon was b. between 1821 and 1823 in Henderson County, NC. He d. September 5, 1901 in Saluda (Polk Co.) NC. He lived in Haywod Co., NC at the outbreak of the Civil war and enlisted in the Confederate Army at age 36, June 29, 1861. He was wounded in the leg near Petersburg, Virginia around August 23, 1864 and the leg had to be amputated. He md. first Nancy Cooper around 1844, and then md. Sarah Ann Russell around 1859.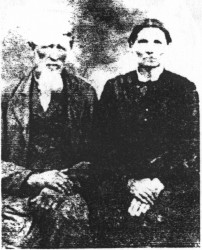 Sarah Ann Russell was b. Feb. 6, 1841 and d. November 20, 1925 in Polk Co., NC (Saluda). Among their children were… William Pickney "Bud" Gordon, Dec. 1, 1859, Sarah Elizabeth "Lizzie" Gordon, Dec. 25, 1860, James Columbus Eddie "Lum" Gordon, Feb. 12, 1864, Massie Adaline "Doll" Gordon, April 28, 1866, Teresa Angeline "Treecie" Gordon, Oct. 16, 1868, Joseph Mathenia Gordon, Jan. 27, 1871, Marion Mark Hannah Gordon, Dec. 11, 1874, J. Luther Gordon, Feb. 16, 1877, Henry Gordon, 1879, Ulysses Sherril Gordon, Sept. 26, 1881 and Mentie Gordon, Aug. 24, 1883.
Alson was the son of Samuel Gordon (1783-1878) and Mary Staton (1786-?).
Sarah was the daughter of Mark Russell and Sarah Atlanta ?Hamilton? or Beddingfield (Sarah's death certificate lists mothers name as Adalanta Beddingfield and Clear Creek as the birth place.)
Here is a more detailed section of notes on Alson Gordon in the notes field in my database. The writeup of "the more detailed account" was found online.
Lived in Haywood Co., NC – enlisted from there in the Confederate army 25th NC Infantry, Co. F –
Private
Born in Henderson County (Buncombe at the time) resided in Haywood Co. where he was by occupation a farmer prior to enlisting in Haywood County at age 36, June 29, 1861. Present or accounted for until discharged on July 16, 1862, by reason of being over age. Reenlisted in the company on August 15, 1863. Present or accounted for until wounded in the leg near Petersburg, Virginia, on or about August 23, 1864. Leg amputated. Reported absent wounded until December 30, 1864, when he was retired to the Invalid Corps.
Here's a more detailed account….
Experiences During the War Between the States.
(The War of Yankee Aggression)
of Alson Gordon
During the spring of 1861 Thomas Lenoir of Haywood County, North Carolina was busy recruiting riflemen for a company of volunteer infantry to defend North Carolina from the threat of the United States Federal Government, from which it had seceded.
When Thomas I. Lenoir approached Alson Gordon, he signed up for one year, or at least made his mark, according to the copies of the official documents. His tour of duty began on June 29, 1861. He is listed as being 5 feet 11 inches tall, fair completion, light hair and blue eyes.
Since May of 1861, newly formed companies had begun to assemble at Camp Patton, at Asheville, North Carolina, near now what is Charlotte Street. By early August, enough companies (10) to form a Regiment were assembled for State service, to serve the Confederate Government.
On August 15, Officers were elected. The ballots were cast as follows; Thomas L. Clingman of Buncombe County, Colonel (he was a US Senator until North Carolina seceded, 20 May 1861); StClair Dearing, Lt. Colonel (he was a Regular US Army Office until he resigned his post to join the Confederacy); Henry Rutledge, Major; Basil Edmonston, Adjutant; W.H. Bryson, Quartermaster; John W. Walker, Commissary; Dr. S.S. Satchwell, Surgeon and Dr. S.W. Fletcher, Assistant Surgeon; J.C.L. Gudger, Sergeant Major ; Clinton A. Jones, Commissary Sergeant; Peter M. Rich, Drum Major; and A.J. Herring, Ordinance Sergeant.
The Companies and their Captains were: Company A from Henderson County, Captain Baylis Edney. Company B from Jackson County, Captain Thaddeus D . Bryson. Company C from Haywood County, Captain Samuel C. Bryson. Company D from Cherokee County, Captain John W. Francis. Company E from Transylvania County, Captain Francis W. Johnston. Company F from Haywood County, Captain Thomas I. Lenoir. Company G from Clay and Macon Counties and Athens Georgia, Captain William S. Grady . Company H from Buncombe County and Henderson Counties, Captain Fredrick Blake. Company I from Buncombe County. Captain George W. Howell. Company K from Buncombe County, Captain Charles M. Roberts.
Alson Gordon, now a Private in Company, F, 25th NC Infantry Regiment, waited with other soldiers, as soldiers must often do, at Camp Patton for marching orders, which finally came. On 18 September 1861, they marched to the nearest railhead which was Icard Station near Morganton, North Carolina. From Morganton they traveled to Raleigh, North Carolina by train, and at Raleigh they drew their uniforms and supplies . From Raleigh they traveled by train to Wilmington, North Carolina and made camp at Mitchell's Sound, naming it Camp Davis. Here they received their arms and equipment and began to drill and train. Pay was drawn on 8-31 and 10-31.
In November, the 25th Regiment was ordered into South Carolina and set up winter quarters near Grahamville, South Carolina. On March 14, 1862 the 25th was detached for picket duty at New Bern, North Carolina but they didn't make it in time, for the enemy had already captured the town. They met up with the retreating Confederate forces at Kinston, North Carolina and made camp there.
Here was made a major reorganization of the 25th Regiment . Colonel Clingman was promoted to Brigadier General, thus shifting many of the top officers . Elections were held again, and Major Rutledge was elected to Colonel. This infuriated Lt. Colonel Dearing; a civilian being promoted over a professional soldier, so Dearing resigned. W.H. Bryson was made Lt. Colonel and Captain J.W. Francis of Company D was made Major and Lieutenant Lee B. Trantham was made Captain over Company D. Here also the 25th was assigned to a unit. The 24th, 25th, 26th, 35th and 49th North Carolina Infantry Regiments were assigned to General Robert Ransom's Brigade.
On June 24, 1862, Ransom's Brigade arrived in Richmond, Virginia, they were temporarily attached to Major General Theophilus Holmes's Division, to fight along side of Major General Benjamin Huger's Division. These Divisions were under the command of General J.B. Magruder. All were officially now a part of the Army of Northern Virginia, commanded by General Robert E. Lee. The next day 25 June, they fought at the Battle of Seven Pines. The 25th had light casualties, 2 killed and 40 wounded. They next fought in the Battle of Malvern Hill on 2 July, where the losses were 90 killed or wounded. After this major battle, they were removed to Drewry's Bluff and made camp. An outbreak of measles proved to be a more formidable enemy than the invading armies, for it took 81 men from the 25th.
July 16, 1862 marks a very distinct change in Alsons life , for on that day his enlistment was over. Most men would have had to stay due to the new Conscript Act, but Alson was over the age, 36, and was free to go. On the 16th, a Wednesday, Alson Gordon packed his belongings and reported to Company Headquarters, Lieutenant Blalock of Company F, filled out his discharge papers. He had drawn his pay on 31 December and 30 April, so the Army owed him for time from 1 May through 16 July. He was paid by final statement for two months and 16 days ($27.86), and a train ticket from Richmond, Virginia to Morganton, North Carolina , plus $9.00 (10 cents a mile) for the 90 miles to get him from Icard Station to Forks of Pigeon in Haywood County North Carolina.
Alson was back home with his family before cold weather 1862. The winter also brought the 25th Regiment back to North Carolina; they set up winter camps near Garrysburg, North Carolina, to help defend the coastal region from attack, when the spring came.
Evidently, times were hard at Alson' farm during his absence and we must also assume that the next springs crops were not up to par either, or else Alson was more of a patriot of the Old North State than we give him credit for; because he joined up again!
During October 1863, joining Madison and Haywood counties w re heavily plagued with Bushwhackers; deserters from both sides who hid in the rough mountains, who traveled in groups killing, stealing, raping and plundering the poor people of Western North Carolina and Eastern Tennessee. When the people cried out for help, a detachment of 25th Infantry Regiment was sent to deal with them, commanded by Lieutenant Bryson, from Haywood County. Somewhere on the way, Lieutenant Hyatt, also from Haywood County, contacted Alson Gordon. Hyatt re-enlisted Alson Gordon for the duration of the war on the 15th day of October 1863. Alson left Sarah behind, expecting their third child. (Born 12 February 1864, James C., he was one year old before seeing his father for the first time).
We cannot be sure of the size of this group of bushwhackers, and cutthroats but a large number banded together to fight the army coming to them. The 25th detachment engaged the bushwhackers at Hot Springs, North Carolina, where the 25th was outnumbered 20 to one by the bushwhackers, and lost the greater part of their men. Among the dead was Lieutenant Hyatt, of Company F, whose last official act was to swear in Alson Gordon, in-route to this battle. The 25th returned without being able to accomplish their task, and later the government sent a larger force to take care of the problem.
Let us look back to June, 1863 to catch up with the news of the regiment. That month, General Robert Ransom was promoted from Brigadier General to Major General. His Brigade was given to Colonel Matthew Ransom of the 35th North Carolina, his promotion to Brigadier General was on 13 June 1863. After the 62-63 wintering in Eastern North Carolina, General P.G.T. Beauregard records that Hoke's Division, including the 25th, was involved in the re-capture of Plymouth, North Carolina from Federal Troops 17- 20 April, with General Hoke personally accepting the surrender. The ironclad ram ship Albermarle aided them. I wonder if it was still patrolling there in November when Alson arrived, and what would he have though of such a contraption.
On 23 May 1863, General P.G.T. Beauregard assumed command of the armies at Plymouth, North Carolina and re-organized them there. The 25th North Carolina Infantry Regiment was then assigned to, General Alfred H. Brogue's Division. General Beauregard was the commander of the armies of North Carolina and Southern Virginia, subordinate only under the commander of all Confederate armies, General Robert E. Lee. Meanwhile General Hoke was promoted to Division Commander and was again over the 25th North Carolina.
1864 brought tough time to the Confederacy. Due to cut offs in supply routes, hoarding governors, and failure to secure British aid, Lee's forces began to suffer from lack of men and supplies. On 4 May President Davis ordered General Beauregard to take his forces to Richmond, Virginia and assist in the defense of the capital. Arriving on the 10th, Beauregard assigned Ransom's Brigade to the defense of Richmond on the hill of Drewry's Bluff.
On 12 May, the enemy attacked the Bluff, and the 25th suffered many casualties. Alson's own company lost six enlisted men and Lieutenant Ferguson to the growing number of the dead.
On 31 May, Hoke's Division was detached to General Lee's Army, now short of men. The division now consisted of Colquitt's, Hagood's, Clingman's and Martin's Brigades. On the 4th of June, the division was placed under command of General Bushrod Johnson, and they were sent north of the James River. They were engaged in hard fighting on the 16th at Bermuda Hundred, and Johnson had to evacuate the lines, covered only by their pickets and skirmishers as they marched to the aid of Petersburg; Richmond was doomed.
On 17 June, at Petersburg, in front of Avery's house, the 25th was responsible for chasing the enemy from their breastworks and occupying the trenches, which they did for almost the duration of the war.
The Confederate defenses of Petersburg were impenetrable, and one of the staff of the Union army, who was a mining engineer in his civilian life, had an idea. He proposed to dig a tunnel far under the Confederate lines, in the center, which was the stronghold. In this tunnel, he would place explosives , and then detonate them. Then he would send in troops to break through the line before they could regroup to cover the line. He took a regiment of former miners and began to dig, and on the 30th of June, a Thursday morning, a crater was made which can still be seen, over 125 years later, known as Grant's Mine.
The Confederate soldiers above them detected the digging of the Federal soldiers, but none of them could figure out what was going on. They tried digging down to them, but missed the shafts each time. (These too are also still visible) When the explosives were placed at the end of the tunnel, (eight tons of gun powder), they were directly under the Confederate center, occupied by Elliot's South Carolina Brigade. When the pre-dawn blast occurred, scores were buried alive, and many found themselves airborne. Four entire companies of the 18th South Carolina were either buried or thrown into the air, along with five companies of the 22nd South Carolina. Those left of Pegram's Virginia Artillery Battery lost a six-gun battery. The 22nd lost 170 men, and the 18th had 43 killed, 43 wounded and 76 missing.
The mighty blast of the explosion was followed immediately by such a thunder of artillery as had seldom been heard before. Ninety-five pieces inched in ever hill-side, commanding the position of the Confederates, belched out their sheet of flame and milk -white smoke, while screeching howling shells sped forward in their work of destruction. But the Confederates were not dismayed. In a few moments their own pieces were replying, and banks of angry smoke partially veiled the field from both sides. In the midst of the shock of artillery, through dense clouds of smoke and dust, the assaulting column of Yankees passed through the crater, fifty feet in length and half as many wide, in what was supposed to be the easy attempt of carrying the second line of Confederate works.
But there were men there ready to receive them who had never flinched from death, and who were not alarmed by loud and furious noises. During all of this the 25th North Carolina was just to the left of the South Carolinians, and with their diminished ranks, (now just over 250 men), moved from their trenches and formed a line behind the Crater left by the blast, now filled with enemy soldiers attacking. The men of the 25th rallied the confused survivors of the blast, along with the soldiers just to their right: the 23rd and 17th South Caroina. These were the only barriers to the enemy's taking Petersburg, and in a few minutes, the valiant General Mahone of Virginia took charge of the men. He placed the 25th and the 49th North Carolina on the left and they led the charge into the pit, and there hundreds of the enemy were slaughtered by enraged Confederates awakened by the blast and its following confusion. As the Union Soldiers tried to climb the sides of the pit to either attack or retreat, they were killed in such great numbers that Grant caught flak from his superiors on the "fool idea".
Alson Gordon was one of the soldiers in this scene, and came out without serious wound, in fact the 25th's losses were surprisingly light in men, but not in officers. Major Grady and Alson's company commander, Captain Cathey of Haywood County were killed. Sixteen enemy regimental flags were counted by Confederate Generals, yet the tattered little army held the works. We see a little of the grit of these Carolinians in this battle especially, since much of it was confined to them.
On 21 August 1864, the 25th was called out of the trenches to participate in a skirmish known as the battle of Weldon Railroad (August 18-21), which took place between Petersburg and Reams Station. The Weldon Railroad, one of General Robert E. Lee's lifelines, connected Petersburg, Virginia and the Confederacy's last major port at Wilmington, North Carolina, via Weldon . The Union effort to cut that connection began on August 18 near Globe Tavern, six miles south of Petersburg. Federal Major General Gouverneur K. Warren's forces took control of the railroad and fought Confederate General P.G.T. Beauregard's forces to a standstill. The next day a Confederate flank attack on Warren's troops took over 2600 Federal prisoners, including Federal Brigadier General Joseph Hayes, but did not push the Federals away from the railroad. Major General William Mahone's attempt on August 21 was also unsuccessful. This four day conflict gave the Union control over the railroad from Reams Station to Petersburg twelve miles north. On 25 August, A.P. Hill's troops regained control of the railroad (Battle of Reams Station), pushing the Federals back to the Petersburg trenches along the Jerusalem plank road. The Federals suffered 2,742 casualties, mostly prisoners, while the Confederates casual ties were 814.
Of the 814 losses recorded, one concerns us: Alson Gordon was wounded on August 21. The family story was that Alson and another solider were filling canteens to take to some of the wounded which were in a Church yard, (neither side would fire on a Church or graveyard) the spring was just off the grounds of the Church, and when the enemy spotted Alson and his companion going to the spring they fired a cannon in their direction. According to the story a half-horseshoe (when regular ammunition was short, any thing metallic was used, nails , chain etc…) almost severed Alson's right leg. Alson's companion got him back to confederate lines and eventually he was taken back to a Petersburg hospital, where two days later (23 August 1864, a Tuesday) the Surgeon amputated Alson's right leg.
This ended Alson's military career, it would have only lasted for seven more months, but perhaps it was fortunate for Alson to be out of action, when the survivors surrendered at Appomattox, only 77 men were present to be paroled from the 25th North Carolina Infantry Regiment, which had started just four springs earlier with over 2,000 men. Captain James A Blalock who was a third lieutenant at the start, was the commander of Company F and when he surrender his men he had less than 20!
Concerning Company F, out of a high of 470 men, 220 were killed in battle, 280 died of disease and records do not show how many were recruited and who deserted the unit. At Appomattox the color Sergeant hid the Regimental flag on his person and took it home to present to Captain Freeman, but it was later destroyed in a fire.
Alson Gordon was mustered into the Invalid Corps from active duty on 30 December 1864. On 19 January 1865, he was retired with honors, according to government records. Alson applied for his soldiers pension 17 July 1901, but did not live long enough to receive it for he died on 5 September 1901, in his late seventies. His widow, Sarah, applied for the Soldier's Widow pension in 1902 and drew it until her death in 1925.
Here's another picture of Sarah (Russell) Gordon.