-->
Sign up for our North Carolina Genealogy newsletter:
When I first started researching, there were a few names that were among the "farthest back" in their line that we KNEW were correct. At that time, my great-aunts and great-uncles were living and could remember their grandparents names. One of those ancestors, was my 2nd great-grandfather, James M. Parker. I have quite a bit of details on his family with Margaret Matilda Waggoner (they were married March 6, 1854). James M. was in the Civil War and was held as a prisoner of war in the notorious Camp Douglas near Chicago. The point of this entry though, is not to detail that, but to upload a picture or two.
This is one of the best "portrait" style pictures that we have of James M. Parker ("Jim")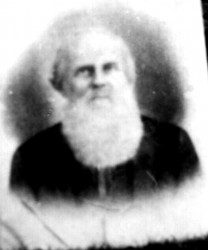 The next clip is from a family picture where he is with the family of one of his sons. At some point I'll upload that entire picture as well, but wanted to just select James M. from it for this post.

For both of the images above you should be able to click on the thumbnail to get a larger version.
Sign up for our North Carolina Genealogy newsletter:
See what happened this day in history from either