-->
Sign up for our North Carolina Genealogy newsletter:
David Blankenship was b. July 4, 1833 in Rutherford Co., NC and d. November 5, 1912 in Madison Co., NC. He md. Dicey E. Moore Sept. 3, 1856 in Washington Co., TN. Dicey was b. July 7, 1838 in Flag Pond, TN and d. March 28, 1884 in Madison Co., NC. David was in the 64th NC Infantry Co., D in the Civil War, but MAY have also been in a Union outfit afterwords. (Family stories placed him in the Union army, there IS a David Blankenship that shows up in one of the NC UNION regiments AFTER his desertion from the 64th…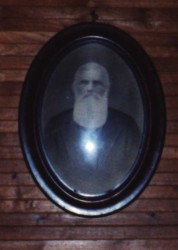 David Blankenship has been a bit of an enigma…. early on in our research we were told that he was an orphan, that he was found wrapped in a blanket on a ship (blank-en-ship) and that his parents had died en route to America. However, he appears to have been the son of James Blankenship of Rutherford County. (And Martha "Patsy" Marlow). James Blankenship was b. abt. 1795 in NC and Martha was b. bet. 1800-1804 in NC and d. 1894 in Rutherford County and is buried in Hillsdale Church Cemetery. James and Martha (Marlow) Blankenship were md. January 15, 1820 in Rutherford County, NC.
Dicey E. Moore was the daughter of Baylis Moore (~1812-aft. 1880)and Sarah Stroud (abt. 1810-aft. 1870) They were md. December 16, 1832 in Washington Co., TN. Baylis was b. in SC and d. in Eureka Springs, Carroll Co., Arkansas and is buried there or in War Eagle, Madison Co., Arkansas.
Children of David and Dicey E. (Moore) Blankenship include: Martha Ann Blankenship, b. Sept. 21, 1858, Presley Blankenship, b. May 26, 1860, Rachel Elzira Blankenship, b. May 20, 1862, Lodusky M. Blankenship b. November 4, 1866, Mack Cager Blankenship, b. Oct. 30, 1869, Sarah Caroline Blankenship, b. May 22, 1871, Eligah Lafayette Blankenship, b. Sept. 16, 1873, Eliza Jane Blankenship, b. Sept. 21, 1875, Lydia Lavina Blankeship, b. Aug. 7, 1879 and Lewis Stephens Blankenship, b. March 4, 1880.
Sign up for our North Carolina Genealogy newsletter:
See what happened this day in history from either